Reading Time:
6
minutes
September 15th marks National Hispanic Heritage Month, which is a time to celebrate the culture and recognize specific achievements throughout history.
Use this list in the classroom to inspire and engage your students by having them select one notable American and reflect on the achievements, legacy, or significant quotation, not to exceed one paragraph. Then, have them share their reflections with the class in a discussion-based activity. Include essential questions to guide their learning and inquiry, for example, how are their  contributions still impactful today or why did the student choose that individual?
We highlight ten Hispanic Americans below who embody the spirit of progress and trailblazing in a variety of fields but encourage you and your students to visit the official Heritage Month website provided by the United States government to access additional resources and lessons to highlight the history this month.
1. Cesar Chavez
Who was he?  A Mexican-American labor leader and civil rights activist who dedicated his life's work to la causa (the cause). He committed his life to utilizing nonviolent resistance to bring awareness to the struggle of farm workers in the United States to improve their working and living conditions. He founded the National Farm Workers Association and through organizing and negotiating contracts with farming employers, he won important victories to raise wages and improve farmers working conditions.
Fun Fact: Cesar Chavez Day is celebrated every year on March 31st in California. Students get the day off school to commemorate and honor his life and work.

2. Dolores Huerta
Who is she? Along with Cesar Chavez, she is an American labor leader and civil rights activist who worked to help form the National Farm Workers Association. She is most famous for organizing the Delano grape strike in 1965 and worked with employers to negotiate the contracts that were created after the strike. She has worked her whole life to advocate for working class, immigrant, and women's rights and was the first Latina inducted into the National Women's Hall of Fame.
Lasting Legacy: The Dolores Huerta Foundation
3. Ruben Salazar
Who was he? A civil rights activist and a reporter for the Los Angeles Times, Salazar was the first Mexican-American journalist from mainstream media to cover the Chicano community. Born in Ciudad Juárez, Mexico, Salazar dedicated his life to representing his community and brining attention to the disparity of racial minorities in news organizations nationwide. He was killed during the National Chicano Moratorium March against the Vietnam War on August 29, 1970, in East Los Angeles, California
Media Legacy: The story of Salazar's killing was the subject of "Strange Rumblings in Aztlan," an article by journalist, Hunter S. Thompson. It was published in Rolling Stone magazine in 1971.
4. Sonia Sotomayor
Who is she? Becoming a United States District Court Judge in 1992, she was elevated to the U.S. Second Circuit Court of Appeals in 1998. In 2009, she was confirmed by Barack Obama as the first Latina Supreme Court justice in U.S. history.
Significant Quote: We educated, privileged lawyers have a professional and moral duty to represent the underrepresented in our society, to ensure that justice exists for all, both legal and economic justice.

5.  Ellen Ochoa
Who was she? An American astronaut, research engineer, and administrator, she became the first Hispanic woman to travel in space and served as the director of NASA's Johnson Space Center from 2013-2018. She also helped create several systems and methods that were awarded patents, including optical systems for the detection of imperfections in a repeating pattern and for the recognition of objects.
Fun Fact: There are a multiple schools named after her, including Ochoa Middle School located in Pasco, Washington, the Ellen Ochoa Elementary School in Cudahy, California, the Ánimo Ellen Ochoa Charter Middle School in East Los Angeles, and the Ellen Ochoa Prep Academy in Pico Rivera, California.

6. Sandra Cisneros
Who is she? Working as a teacher, a counselor,  a poet-in-the-schools, and an arts administrator, Cisneros is most famously known as the Chicano author when lent her voice to the Hispanic community through her novel, The House on Mango Street. Her works primarily focus on the formation of Chicana identity, exploring the challenges of being caught between Mexican and Anglo-American cultures, and experiencing poverty. She has maintained a strong commitment to her community and literary causes through the formation of the Macondo Writers Workshop.
Significant Quote:  I try to be as honest about what I see and to speak rather than be silent, especially if it means I can save lives, or serve humanity.
7. Lin Manuel-Miranda
Who is he? An accomplished Puerto Rican actor, composer, producer, and playwright, Miranda is most well-known for creating and staring in the musical, Hamilton. Prior to his success on Broadway, he worked as an English teacher at the same high school he attended. His first Broadway production, In the Heights, represented the largely Hispanic and Latino neighborhood of Washington Heights in Upper Manhattan, New York City where Miranda grew up.
Activism: In the wake of Hurricane Maria, he helped the Hispanic Federation raise twenty-two million dollars for rescue efforts and disaster relief and continues to advocate for Puerto Rico.
8. Octaviano A. Larrazolo
Who was he? A free-thinking Republican lawyer from New Mexico who immigrated to the United States as a boy, he was the first Mexican-American and Hispanic in United States history to be elected Senator in 1928. A champion of equal opportunity who was known throughout the state as the "silver-tongued orator," Larrazolo built a political career around his persistent defense of Hispanic civil rights.
Lasting Legacy: In 1911, the New Mexican Territory held a constitutional convention in preparation for its entrance into the Union and Larrazolo was one of the Latino delegates chosen to attend. Through advocation for the Spanish-speaking population, he was able to have considerable success implementing pro-Latino measures in the New Mexico Constitution when he insisted that all citizens be protected by the new state constitution.
9. Jaime Alfonso Escalante Gutiérrez
Who was he? A Bolivian-American teacher who moved to the United States, he spent years working various jobs to teach himself English and earn another college degree before eventually returning to the classroom as an educator. In 1974, Escalante began to teach an AP Calculus at the severely underfunded Garfield High School in Los Angeles, when their accreditation was in jeopardy. Escalante first gained media attention when 18 of his students passed the AP Calculus exam on their first try, when no students from that school had ever taken the exam prior. Through his efforts to serve his students, he became one of the most famous Hispanic educators in America.
Media Legacy: The 1988 film Stand and Deliver was based on Escalante's experience at Garfield High School. In 2011, the film was deemed "culturally historically or aesthetically significant" by the Library of Congress and was selected for preservation in the United States National Film Registry.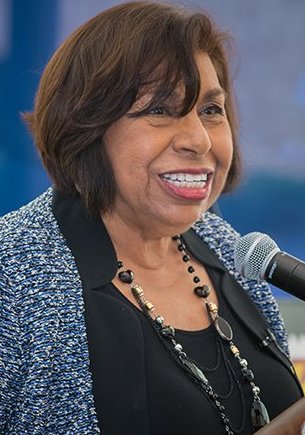 10. Sylvia Mendez
Who is she? Currently a civil rights activist, she was the child at the center of the 1946 landmark desegregation court case Mendez v. Westminster School District. She paved the way to successfully end segregation in California and opened the door for national integration and the larger American civil rights movement.
Fun Fact: Mendez was the 2019 Spirit of America Award winner at the National Council for the Social Studies conference, which was sponsored by Social Studies School Service.
---
Want additional resources to commemorate Hispanic American History Month?
Try a free Active Classroom 30-day trial
---
---
Monet Hendricks is the blog editor and social media/meme connoisseur for Social Studies School Service. Passionate about the field of education, she earned her BA from the University of Southern California before deciding to go back to get her Master's degree in Educational Psychology. She attended the graduate program at Azusa Pacific University pursuing her post-grad Educational Specialist degree in School Psychology and Applied Behavior Analysis and currently works as a School Psychologist in Los Angeles, CA. Her favorite activities include traveling, watching documentaries on mental health, and cooking adventurous vegetarian recipes.