Reading Time:
3
minutes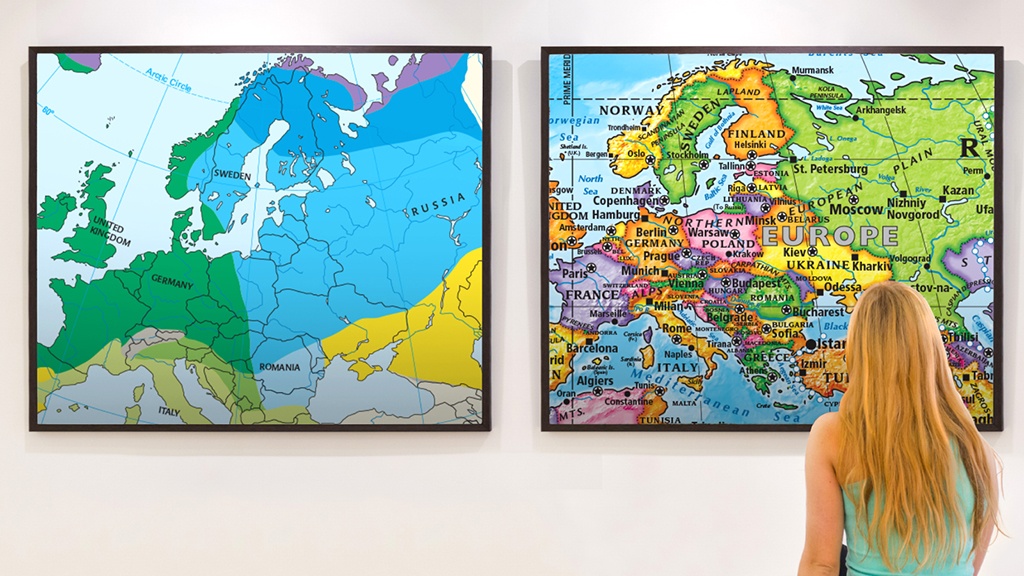 This geography activity makes maps applicable to student lives by getting students out of their chairs and interacting with the material.
In my personal opinion, geography can be one of the tougher disciplines to make exciting and engaging for students, especially if you are just starting out as a teacher. Luckily, early on in my career, I was introduced to a project-based curriculum designed around the idea of learning geography skills to survive the zombie apocalypse. However, many of the activities from programs like this could easily be used in isolation.
Get a free trial of Active Classroom to explore Zombie-Based Geography in this interactive, digital curriculum.
One of my favorite activities that I do consistently from the program I use is called the "Map Gallery Walk." This activity introduces students to the different types of maps and map elements in an interactive environment while also analyzing their purposes. Furthermore, I always get positive, enthusiastic responses from students when we do this activity because they are getting out of their chairs and interacting with the material.
Implementing the "Map Gallery Walk"
Step 1: Introduce your students to the different map elements they may encounter
This includes direction, scale, symbols and legend, labels, grid, and index. Next, they are introduced to the different types of maps: physical, political, road, resource, topographical, climate, and economic. For both of these topics, I give students guided notes that include a picture and definition. Finally, we discuss those notes as a whole class.
Step 2: Divide students into groups to rotate stations
Set up stations around the room, each containing a different type of map. However, the name of the particular map is hidden. As the student groups rotate to each station, they have to identify the map in there. This is the "gallery walk" part of the lesson. Students examine the map, identify the map elements, and determine the purpose of the map. As they go through the stations, each group fills a worksheet to record all of the map identifications.
Step 3: Debrief the gallery walk
Once each group has been to each station, we debrief the gallery walk. We discuss each station, and the students must correctly identify the maps.
Step 4: Give an assignment on map use
Finally, students are given an assignment on map use. Students are given different scenarios that require a specific map. They have to determine which map would be best suited for each scenario. This can be done as a whole group, with partners, or independently. However, I usually have students do this activity independently.
Makes maps applicable to students' lives
This is a simple activity that gets students out of their desks and interacting with different maps. Plus, they are using critical thinking skills to determine the types of maps. But, I believe the big takeaway from the lesson is that students see the many uses and purposes of maps and how they can be applicable to their own lives.
---
Get a free trial of Active Classroom to explore Zombie-Based Geography and more digital geography and social studies activities
---
---
Jessica Hayes has been teaching for five years. She completed a bachelors' degree in Social Science Education at Auburn University in 2009, and a master's degree in English Education from Jacksonville State University in 2014. Recently, she has received her Instructional Leadership certificate. In her work as a certified trainer for Active Classroom, she builds curriculum maps and trains educators on using the program. In her spare time, she loves reading and learning new technology/productivity skills.