Reading Time:
7
minutes
From Martha Washington to Michelle Obama, each First Lady has made unique contributions to American history. Learn about the lasting legacies of some of the women behind each United States president.
Martha Washington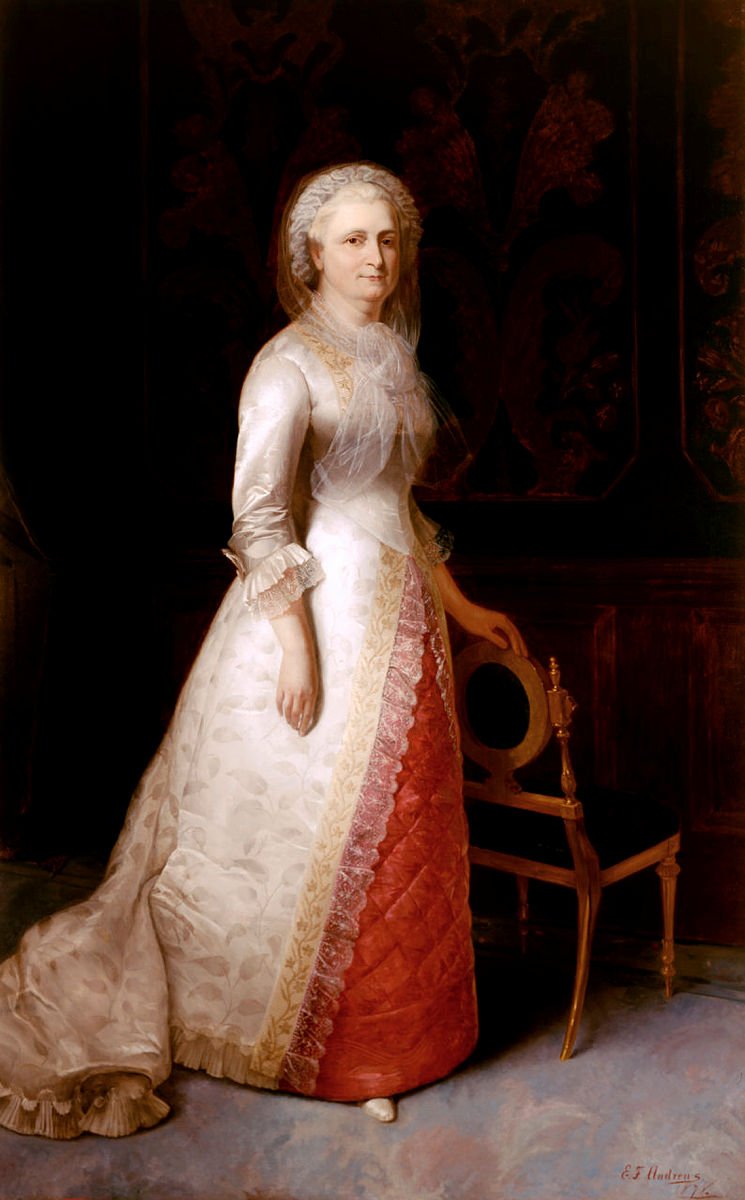 Wife of America's first president, George Washington, beloved Martha Washington established behaviors and duties she thought should be customary for a First Lady. She took on the public role of hostess to dignitaries and political figures, creating a schedule of formal dinners and public receptions. While primary sources suggest that life as a presidential wife left her lonely and often isolated, she took her responsibilities as a public figure with the utmost seriousness and always made sure her husband's reputation was never compromised. As the first in a long line of dignified ladies, Washington laid out a lasting foundation for the women who followed her.
Dolley Madison
Dolley Madison was the outgoing, highly popular wife of James Madison, the fourth president of the United States. With an enthusiasm for life in the public and political sectors, she forged the highly public persona, believing that her role was to be as dignified in public as her husband. She represented the presidential administration publicly and politically by entertaining and cultivating personal alliances with the spouses of important political figures and foreign dignitaries. The first First Lady to formally associate herself specifically with a local project, she joined the board and helped found a Washington, D.C. orphanage for young girls.  Her charitable legacy continues to impact the First Ladies of today.
Julia Tyler
The second wife to the tenth president, John Tyler, she spent only eight months in office as First Lady, but had a long-term impact overall. Dubbed the "Presidentress" by a local newspaper, she maintained a public relationship with the press and became the closest thing to a national celebrity at the time. Known for her love of music and dancing, she was the first presidential wife to hold a ball while her husband was in office and directed the Marine Band to play a specific march whenever she and the president entered a public space; the song was later renamed "Hail to the Chief." Greatly concerned for the safety and well-being of her husband and his successors, she changed the location and way that the president was received at public ceremonies in the White House.
Mary Todd Lincoln
While she was wife to one of the most famous and influential United States presidents, her time in the White House was far from easy. She was the first presidential wife to officially be called "First Lady" by the press. With the Civil War dominating her husband's time in office, she dedicated her time and effort to promoting an image of solidarity and strength for the Union, which included her 1861 White House renovations and accompanying her husband to various battle sites. At the expense of her own mental and physical health, she offered up the presidential residence as a camp for Union soldiers, volunteered as a nurse in the war hospitals, and steadfastly fought for her core values of racial equality and full emancipation of slavery.
Lucy Hayes
The wife of the nineteenth president, Rutherford B. Hayes, she initially was tepid about her duties as First Lady, but eventually took on the role with grace. She was the first First Lady to have graduated with a college degree, and publicly encouraged other women to seek an education. Known for her natural empathy and warmth, she performed charitable work helping the poorest neighborhoods in Washington D.C. as well as visiting children's hospitals and advocating for Native American lands.
Frances Cleveland
The only woman to get married in the White House was wife to Grover Cleveland, the 22nd and 24th president of the United States. In both of her husband's terms in office, she was an advocate for working-class women, hosting receptions at the White House on Sunday mornings for those who were unable to visit during the week. She also supported many national and local Washington D.C. organizations  and warmly accepted citizens of all races and classes during her time as First Lady.
Florence Harding
One of the fiercest activists for women's rights while First Lady was the wife of Warren G. Harding, the 29th president. Breaking with social code at the time, she regularly invited divorced women, as well as women of various classes, races, and ages, to White House social events. The media praised her efforts to promote economic, political, and social equality for all women. She was also an outspoken advocate for animal rights, supporting organizations such as the National Society for the Humane Regulation of Vivisection, the National League to Conserve Food Animals, the ASPCA, and Animal Rescue League.
Eleanor Roosevelt
The longest-serving, and arguably one of the most influential First Ladies was Eleanor Roosevelt, whose time in the White House came during two of the most tumultuous events in American history—the Great Depression and World War II. Unlike her predecessors, Mrs. Roosevelt had unparalleled experience working toward progressive policies in the media and education and advocating for women's issues, which she continued to build during her time as First Lady. She championed various equality and reform measures, successfully lobbying for the expansion of the Civil Works Administration and the Federal Emergency Relief Administration to include divisions that dealt specifically with the problems faced by unemployed women. Her accomplishments continued after she was no longer First Lady: she led the first UN Commission on Human Rights, oversaw the drafting of the Universal Declaration of Human Rights, and headed President John F. Kennedy's Presidential Commission on the Status of Women.
Lady Bird Johnson
The wife of the 36th president, Lyndon B. Johnson, achieved recognition for her interest in and study of the First Ladies who came before her. She created a First Lady's Committee for a More Beautiful Capital, which included former First Lady Jacqueline Kennedy as one of its leaders. She also took a highly active part in her husband's War on Poverty initiatives and strongly supported the Head Start project for preschool children.
Nancy Reagan
The epitome of sophistication and grace in the White House was Nancy Reagan, the wife of 40th president of the United States. Championing drug abuse awareness and education reform during her term, she was most famous for her "Just Say No" campaign, which helped spur in the passage of the National Crusade for a Drug Free America Act. Her efforts to fight school-age drug and alcohol abuse took her to over sixty cities across America and nine foreign countries. She was also instrumental in persuading her husband to publicly acknowledge and apologize for his misjudgment in the Iran-Contra affair.
Barbara Bush
Dubbed by the press "everybody's grandmother," the wife of the 41st president and matriarch of the Bush political dynasty was warmly received by the American public. During her husband's term in office, she selected the promotion of literacy as her crusading cause. As First Lady, she called working for a more literate America the most important issue facing American youth. Involved with many organizations devoted to her cause, she became Honorary Chairman of the Barbara Bush Foundation for Family Literacy. A strong advocate of volunteerism and many different charitable causes, she helped the homeless, AIDS, the elderly, and school volunteer programs.
Hillary Clinton
The first presidential wife with a post-graduate degree, Hillary Clinton took on unprecedented responsibilities as First Lady aiming to tackle healthcare reform and equality. She created the Task Force on National Health Care Reform at the start of her husband's administration, and played an instrumental role in the formation of the Children's Health Insurance Program and passage of the Adoption and Safe Families Act. Passionate about women's rights, she persuaded her husband to appoint Madeleine Albright as the first female Secretary of State. She later spoke out against the Taliban's brutal treatment of women in Afghanistan, and, in an speech at the 1995 Fourth World Conference on Women, she famously declared that "women's rights are human rights." Despite hostility from Republicans, negative media coverage, and an administration plagued with scandal, she persisted to became one of the most accomplished First Ladies of the modern era.
Michelle Obama
The other half of former president, Barrack Obama, is his graceful, outspoken wife, Michelle Obama. In addition to becoming the first African-American First Lady, she was the third woman who lived in the White House with a post-graduate degree. She and her husband had many legislative goals, and she publicly advocated for the passage of several bills he introduced in Congress. Her achievements as First Lady included fighting the epidemic of childhood obesity, co-founding the Joining Forces program to expand educational and employment options for veterans and to raise awareness about the difficulties many military families face, and forming the Reach Higher initiative encouraging American youth to take advantage of higher education and career-development opportunities.
---
References
National Women's History Museum
Photos: First Lady Portraits – White House Collection/White House Historical Association
---
---
Monet Hendricks is the blog, social media, and meme connoisseur for Social Studies School Service. Passionate about the field of education, she earned her BA from the University of Southern California before deciding to go back to get her Master's degree in Educational Psychology. She currently attends the graduate program at Azusa Pacific University pursuing advanced degrees in School Psychology and Applied Behavior Analysis. Her favorite activities include creating relatable education-based memes and cooking adventurous vegetarian recipes.